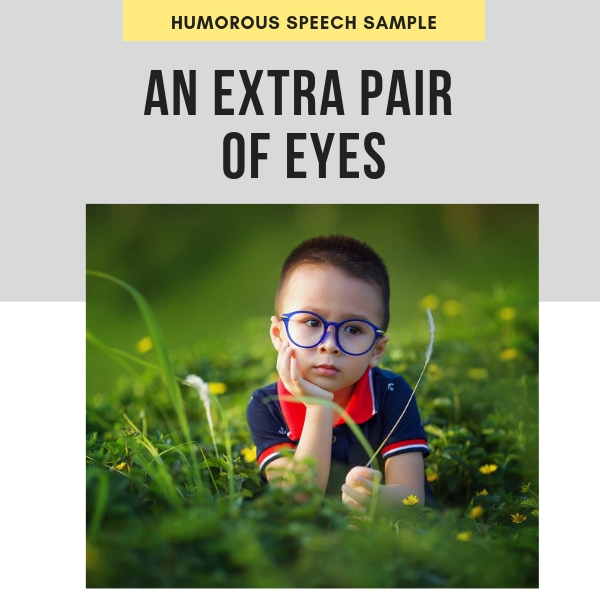 A Humorous Speech Sample titled "An Extra Pair of Eyes" which I delivered at our Club's Toastmasters Humorous Speech Contest, about how we hate our handicaps and how we should actually appreciate and count our blessings instead. I received the First Prize in the Toastmasters Humorous Speech Contest and this is an extract from my speech.
---
AN EXTRA PAIR OF EYES

Many years ago when I was in Grade 6, I had a huge crush on a new girl in my class. The first time I saw her face – I could hear the music play in the background… The first time I looked into her eyes, I felt like I was drowning in an ocean. The first time she called my name…
Hey Chashmish! That is how I was greeted by the cutest girl in my class when I first wore spectacles in Grade 6. I was embarrassed. But, I was glad at least she noticed me for the first time.
Ladies and Gentlemen, when I was a student in Grade 6, I realized that the alphabets on the blackboard started looking like funny creatures and even our scary class teacher, Savitri maam, began to look like Julia Roberts to me. When all the students who were bunking classes and hiding behind the trees at the sight of the teacher, I couldn't even tell it was our scary class teacher or the friendly gardener.
During the Parent Teacher Meeting, Savitri maam asked my grandfather to get me an eye exam, who took me to the Optometrist the next day. The doctor asked me to sit down in the chair and put a weird contraption on my eyes. And then I was asked to read a few alphabets on the chart. I knew then and there that my fate was sealed. As expected, I flunked the exam, and my grandfather ordered the cheapest pink plastic frame for me which would make Harry Potter's glasses look like a pair of Rayban.
Over the years, people started calling me by various names such as Chokha, Chakshu, and Chaar Aankhein, and I grew increasingly frustrated with my inability to see without my glasses.
Every time I took a sip from a cup of tea, I stopped seeing the beautiful world for the next 20 seconds because of the fog. Every time it rained, my glasses turned into a windshield without wipers. Every time I went to a swimming pool, I could not tell if it was a cute girl looking at me or the big bulky security guard.
Once I took my wife for a Spring Break vacation to the gorgeous Panama City Beach. For those of you who have never been on Spring Break – it is the bachelor's paradise… sunny beaches… cool breeze and beautiful "birds". I settled her down on a rented beach chair and decided to go for a small walk. After 15 minutes when I did not come back, my wife decided to follow me and found me sitting in the front row of the "Bird Bikini competition". She came from behind my back and took away my glasses. I was embarrassed but more than that I was disappointed.
Always having had a hatred for my glasses, I once visited a School for special children for their annual Winter Carnival and had the opportunity to watch a special cricket match. The underarm bowler who looked like Wasim Akram bowled a perfect delivery. The batsman who looked like Sachin Tendulkar took a step back and whacked it for a big six. I watched the match for a few overs but there was something odd… every time the ball hit the ground there was a sound of a ghungroo. It is then that I learnt that the students who were playing the match were completely blind. The batsman hit the ball but it was me who was completely bowled. It is then that I realized that the glasses which I was wearing on my eyes actually made me see this wonderful world better. That is when my hatred for my glasses became my love.
Now, speaking of hatred, ladies and gentlemen, how many of you hate those pimples on your face? How many of you think that your receding hairline makes you look bad? How many of you think that the color of your skin decides the kind of attention you would get?
Friends, always remember to count your blessings, and next time someone bullies you or makes fun of your oddity, or calls you "An Extra Pair of Eyes", stay cool and tell yourself that four eyes are better than none. Right?
Suggested reading:
For more such content, read Humorous Speech Sample from the Speech Samples category.