Speak to Succeed! Puneet Wadhwa's Leadership and Public Speaking blog
---
Do you remember your first public speaking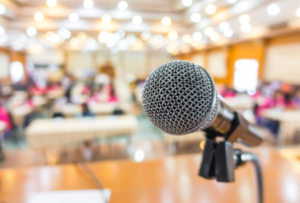 encounter?
You were dreadfully waiting in the audience till your name was announced. Your heart started pounding, your palms started sweating and your legs started shaking. You choked – completely forgetting your content as soon as you start speaking. Sounds familiar, right?
We all have been there. I still remember my first public speaking encounter around 5 years ago wherein I was asked to speak in front of around 80 people during an office team building event on an impromptu topic. I was the first one to raise my hand to ask for a chance to come speak. The announcer narrated the topic and I started speaking. I spoke for a total duration of 16 seconds and then I froze. I completely froze and was silent for about 45 seconds before I walked off the stage in embarrassment. That 45 seconds of silence with the entire office staff looking at me still haunts me till date.
However, it was that day that I decided it was time to conquer this phobia which was preventing me from succeeding in my career and personal life. I was lucky to find a Toastmasters (a leadership and public speaking nonprofit) club in my office which gave me plenty of opportunities to groom myself and rehearse in front of friendly and encouraging fellow learners.
This blog is an endeavor of mine to share all that I learned during these five years, and how I grew from a jittery and nervous speaker to a much more proficient version of me.
I will be regularly posting articles, tips, tricks and other interesting information on how you can also defeat your fear of public speaking and enjoy success in your personal and professional lives.
So, if you are ready – read my public speaking blog, and keep your comments, suggestions, and ideas coming in.